Dear Koi friends,
My name is Bart and I'm posting for the first time. By the way, I come from Croatia and I am preparing to build my first pond. This forum seems to be one of the better in Europe and there are a lot of experts on the subject.
This is a draft of my future pond :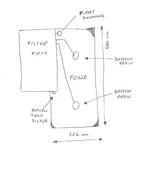 from the equipment I got a drum filter AEM 35 PRO, biological filter 200cm x 100 cm x 80 cm with four chambers that I will fill with helix ( static, moving, matt and UV chamber -110 w ), 2 x bottom drains 110 and one float skimmer 110 , 2 x pumps aqua forte DM vario 20000.
Before I start installing the equipment, I am interested in a few things:
1. at what height should I install a floating skimmer if my water level in the pond from the bottom to the top is 190 cm?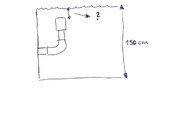 2. I see that some people use two methods when connecting a drum filter to inlet pipes. I am sending a picture of what exactly I mean, I guess picture two has to do with cleaning the bottom drain. How do people do this who do not have an additional T-connection with a valve installed? Is the combination in Figure two necessary?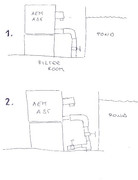 3. this image shows how to connect a drum filter and a biological filter. Is this the correct way and do I have to put valves between the drum filter and the biological one if I already have valves on the biological filter under each chamber for draining ? Did I set the heights well?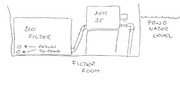 4. at what height to make the entrance of clean water from the filter to the pond ?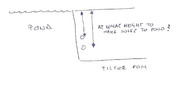 5. how do i perform automatic water refill? I was thinking of using the Htronic WPS 3000 plus (
https://www.h-tronic.de/en/shop/water-l ... 3000-plus/
). I don't know where it's best to place the probes? As far as I understand, I connect the solenoid valve to the socket on the device, and on the other side to the source of tap water, am I right about this?
I am also interested in where it is best to perform the new water inlet - in the filter or directly in the pond ?
6. I have seen that some people use 45 knees when constructing the bottom drain, while others do not use them ... Which way is correct?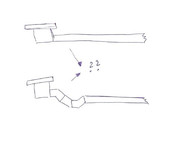 sorry for a lot of questions and because i write in english, not your language.
Greetings